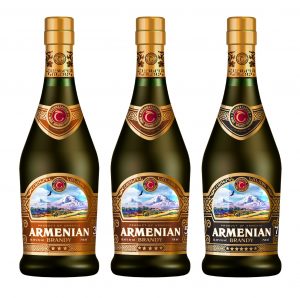 Armenian Brandy (dark glass)
Classic Armenian brandy of decent quality, at an affordable price in a recognizable matte bottle.
Consumers are attracted by the prestige of the Armenian brandy, the value for money, as well as its ability to give rich taste sensations. According to special technologies, alcohols are aged in Karabakh oak barrels.
Our brandy is amber in color, with a golden hue, with a bright aroma of candied fruits, vanilla and chocolate. It has a rich and balanced flavor and is perfect for a good time.
Assortment:
3 years; 5 years (g/b); 7 years (g/b);
Volume:
0,5 l; 0,25 l